(Los Angeles, California – November 17, 2017) Los Angeles World Airports (LAWA) and the Transportation Security Administration (TSA) formally unveiled the first five Automated Screening Lanes to be installed as part of a $12.3 million project to upgrade 14 lanes in the Tom Bradley International Terminal Security Screening Check Point at Los Angeles International Airport (LAX).
"Los Angeles World Airports is pleased to bring this enhancement to our passengers, as we continue to make LAX a gold-standard airport." said Aura Moore, the Chief Information Officer at LAWA. "We are also happy that so many of our airline partners are on board with the decision to upgrade these lanes, and we thank the Transportation Security Administration for its partnership in making this upgrade possible."
"Our goal is to seek out innovative solutions and processes that will increase security effectiveness while improving the passenger experience," said Keith Jeffries, the TSA 's Federal Security Director at LAX. "Because ASLs automate some of the processes previously carried out by TSA officers, passengers can move more swiftly through the checkpoint without compromising security."
The new ASLs provide the foundation for future security enhancements and assist in decreasing the overall passenger transit time, thus providing faster processing times and superior customer experience. They allow as many as five guests to place their items in trays simultaneously and submit them for screening without waiting on the first person to complete the process. Guests then line up at the body scanner or metal detector.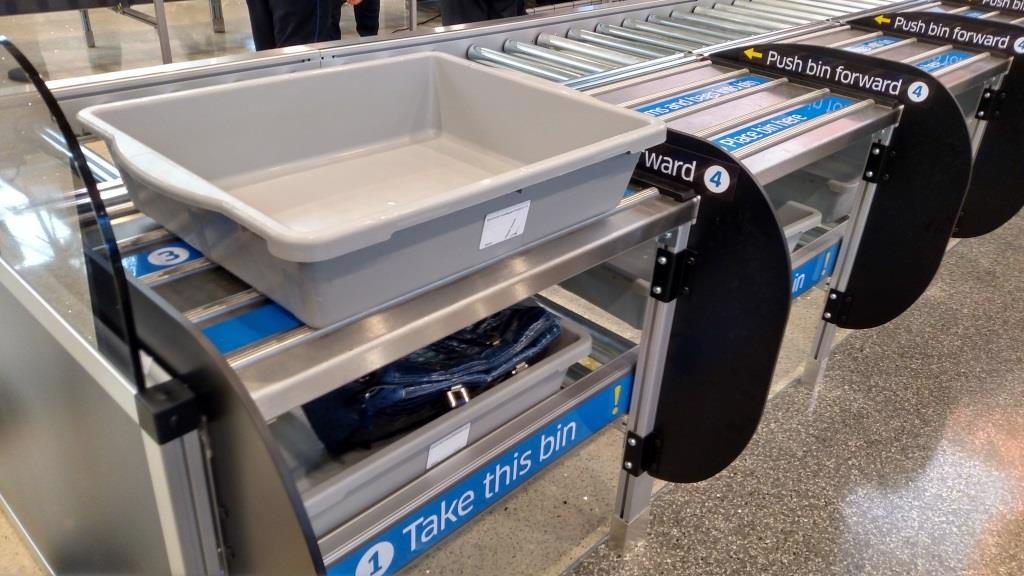 The new technology allows as many as five passengers to line up at once and fill their trays, then move on to the body scanner rather than wait for the first person to complete the process.
The first ASL lanes were installed in Terminal 7 about a year ago as United Airlines opened its new Security Screening Check Point. Lanes are also available in Terminals 2 and 4 at LAX, which is one of 11 airports nationwide that use the new technology.
Beyond the ability for multiple guests to fill their trays at the same time, the ASL lanes offer additional benefits for travelers, including:
The automated conveyor belts draw trays into the X-ray machines and return the empty trays back to the front of the line for passengers. This eliminates the need to push the tray onto a belt before walking to the body scanner.
Carry-on bags that trigger an alarm warning of a potential threat are automatically pushed to a separate area to allow trays behind them to continue through the screening process uninterrupted. Any bags that need to be checked can be moved to a table away from the line.
The property trays that are 25 percent larger than the trays in standard screening lanes. They are the size of a bag that can go in an overhead bin, so they provide additional guidance as to what can be carried onto the plane.
Unique Radio Frequency Identification (RFID) tags are attached to each tray to allow for additional accountability of a traveler's items as they transit throughout the security process. A camera takes a photo of the contents of each bin, which is linked side-by -side to the X-ray image of a bag's contents.
A video demonstration showing passengers how to use the new lanes can be viewed and downloaded at https://lawa.box.com/s/6zz4jqrqc7b27m0fr7etc9xehinh1ig0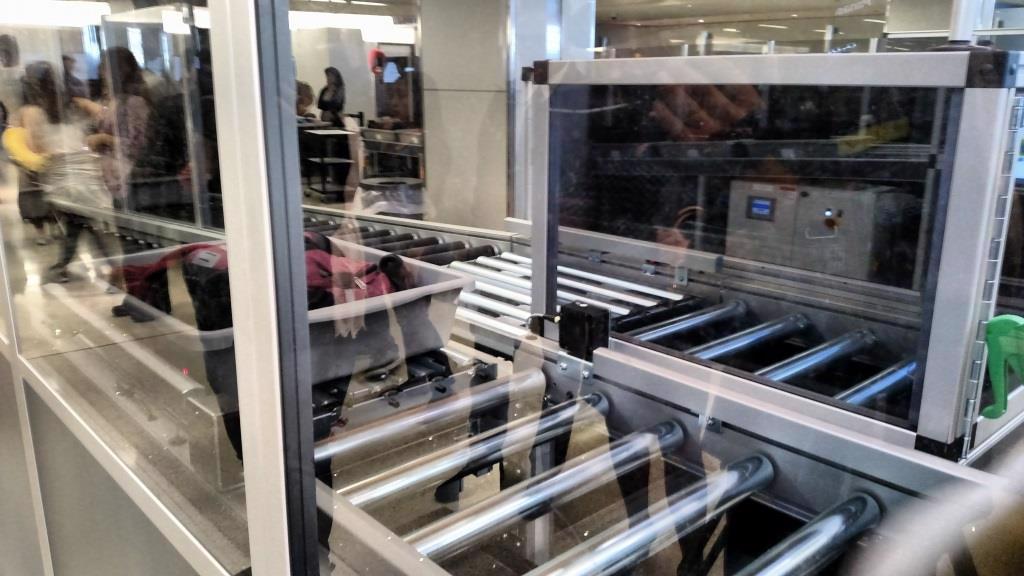 Once the trays are X-rayed, they are returned to passengers down the converyor to the left, or are diverted to the right if an item requires further investigation.
Once the project is completed, and all 14 automated and two standard lanes are operating this spring, LAX forecasts that 3,220 passengers can be screened per hour at the checkpoint, which is nearly a thousand more than its capacity when all 16 lanes used the standard equipment.
The project is being paid for through a combination of an Airport Improvement Program grant from the Federal Aviation Administration (FAA) and LAWA capital funds, which does not include any money from the City of Los Angeles' general fund.
About Los Angeles International Airport (LAX)
LAX is the fourth busiest airport in the world, second in the United States, and was named Skytrax' 2017 Top 10 Most Improved Airports. LAX served more than 80.9 million passengers in 2016. LAX offers 737 daily nonstop flights to 100 cities in the U.S. and 1,386 weekly nonstop flights to 88 cities in 44 countries on 73 commercial air carriers. LAX ranks 14th in the world and fifth in the U.S. in air cargo tonnage processed, with more than 2.2 million tons of air cargo valued at over $101.4 billion. LAX handled 697,138 operations (landings and takeoffs) in 2016.
An economic study based on 2014 operations reported LAX generated 620,600 jobs in Southern California with labor income of $37.3 billion and economic output (business revenues) of more than $126.6 billion. This activity added $6.2 billion to local and state revenues and $8.7 billion in federal tax revenues. The study also reported that LAX's ongoing capital-improvement program creates an additional 121,640 annual jobs with labor income of $7.6 billion and economic output of $20.3 billion, $966 million in state and local taxes, and $1.6 billion in federal tax revenues.
LAX is also the second most popular airport in the world to appear on Instagram according to wego.com. LAX is part of a system of two Southern California airports – along with Van Nuys general aviation – that are owned and operated by Los Angeles World Airports, a proprietary department of the City of Los Angeles that receives no funding from the City's general fund.
For more information about LAX, please visit www.flyLAX.com or follow on Twitter @flyLAXAirport, on Facebook at www.facebook.com/LAInternationalAirport, and on YouTube at www.YouTube.com/laxairport1. Information about LAX's ongoing multi-billion-dollar LAX Modernization Program, as well as tips and shortcuts to help navigate LAX during construction, are available at www.LAXisHappening.com.
As a covered entity under Title II of the Americans with Disabilities Act, the City of Los Angeles does not discriminate on the basis of disability and, upon request, will provide reasonable accommodation to ensure equal access to its programs, services, and activities. Alternative formats in large print, braille, audio, and other forms (if possible) will be provided upon request.
About the Transportation Security Administration (TSA)
The Transportation Security Administration was created to strengthen the security of the nation's transportation systems and ensure the freedom of movement for people and commerce. TSA uses a risk-based strategy and works closely with the transportation, law enforcement and intelligence community to set the standard for excellence in transportation security. For more information about TSA, please visit the website at tsa.gov.
Silvija Zalepugiene, Silvija Travel Tips
#SilvijaTravelTips #IPW17
Twitter: @SilvijaTravel
<a href="http://www.pntrs.com/t/SEFGR0hMRExBRUlITEZKQUZJTEw"><img src="http://www.pntrs.com/b/SEFGR0hMRExBRUlITEZKQUZJTEw" border="0" width="728" height="90" title="Static-Horizontal" alt="Static-Horizontal"></a>